"Germany, don´t be cruel" und "No difference between Afghans and other refugees – stop deportations!" Die Botschaften sind eindeutig, die zahlreiche Geflüchtete vor dem Lager in der Schnackenburgallee mit bunten Farben auf Pappen schreiben. Die Ankündigung der Bundesregierung, selbst Afghanistan nun als "sicher" deklarieren und verstärkt Menschen in das Kriegsland zurückschicken zu wollen, hat vielen der hier im Lager Lebenden Angst eingejagt.
Am heutigen Sonntag sind wir vom Bündnis Recht auf Stadt – never mind the papers mit zwei Kleinbussen losgefahren und haben den Großlagern in der Dratelnstraße (Wilhelmsburg) und der Schnackenburgallee (Stellingen) einen Besuch abgestattet. Wir wollten mit den Menschen ins Gespräch kommen, über ihre Sorgen und Probleme sprechen, aber auch unsere Botschaft "Gleiche Rechte für alle!" stark machen und sie zur Demonstration am kommenden Sonnabend, den 14. November, einladen. Ausgestattet mit einem kleinen Teewagen und Lautsprechern haben wir hoffentlich ein wenig Abwechslung in den Lageralltag gebracht. Die Menschen hörten ihre eigene Musik, vor der Dratelnstraße wurde auch ausgelassen getanzt, ein Sänger trat auf und Kinder malten eifrig bunte Bilder.
Wir sprachen mit Yezidis, die vor dem IS aus Shingal im Norden des Irak geflohen sind, mit Roma, deren Herkunftsländer bereits vor Wochen für "sicher" erklärt wurden und denen nun – trotz allgegenwärtiger Diskriminierung auf dem Balkan – die Abschiebung droht, oder mit Syrer*innen, die etwa aus Jarmuk, einem palästinensischen Flüchtlingsviertel inmitten von Damaskus fliehen mussten, weil der IS von außen und das Assad-Regime mit Bomben von oben ihre Häuser zerstörte. Die Situation, in der sie nun in Hamburg leben, hat sich im Vergleich zur Lage vor wenigen Wochen, nur leicht verbessert – weil die Zelte nun beheizt werden, aber auch weil das Wetter etwas besser geworden ist. Es bleibt eine Frage der Zeit, bis es wieder kälter wird. Heizlüfter hin oder her: Es kann nicht sein, dass die Menschen den Winter über in Zelten verbringen müssen, obwohl Kirchen, Schüler*innen und etliche andere Teile der Zivilgesellschaft der Stadt Räume angeboten haben!
Auch deshalb werden wir am Samstag mit vielen Menschen aus dieser Stadt, ob hier geboren oder nicht, auf die Straße gehen – für die Rechte aller Menschen, die hier leben! Für angemessenen Wohnraum! Für Bewegungsfreiheit, über Grenzen hinweg! Und für das Recht zu Bleiben! Yalla Yalla – kommt mit uns gemeinsam am 14. November auf die Straßen Hamburgs!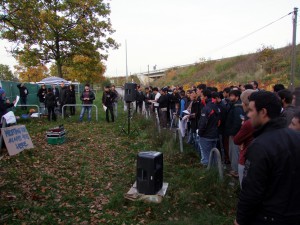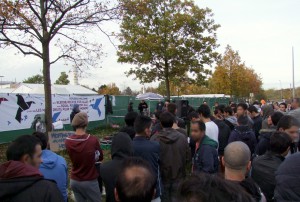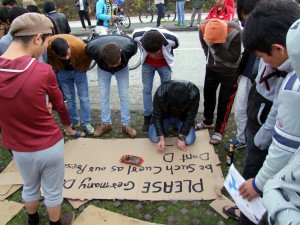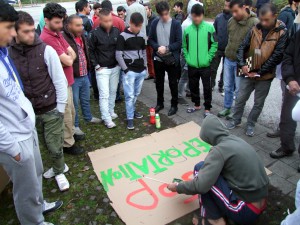 ————————————————————————-
"Germany, don´t be cruel" and "No difference between Afghans and other refugees – stop deportations!" The messages are clear, written with different colours on signs, done by refugees in front of the camp at Schnackenburgallee. The announcement of the German government to declare even Afghanistan as "safe" and to send people back in this country of war, has scared many of the people who are living here.
On this Sunday, we – activists from the alliance "Recht auf Stadt – never mind the papers" got into two vans and visited the mass camps in Dratelnstraße (Wilhelmsburg) and Schnackenburgallee (Stellingen). We wanted to get in touch with the people living there, to talk about their problems and worries, but also spread our message "Equal rights for all!" and invite them to our demonstration on the upcoming Saturday, the 14th of November. Equipped with a small tea wagon and loudspeakers we hopefully brought some relief into their daily camp life. People listened to their music and in front of Dratelnstraße a guy sang, people danced and children painted a lot of colourful pictures.
We spoke to Yezidis from Shingal who fled from the IS in the North of Iraq, we spoke with Roma whose countries of origin had been declared as safe (already some weeks ago) and who are now in danger of deportation – even if they are subject to a racist discrimination in Balkan countries – and we spoke to people from Syria, for example from Jarmuk, the palestinian refugee-district inside Damascus which is attacked by IS and the Assad-regime at the same time. The situation in which these people are now living in Hamburg, has changed only a bit compared to the situation some weeks ago – because now the tents are heated, but also because the weather has become better. But it is only a matter of time until it will be much colder again. Heater or not: It´s not okay that people have to stay in tents in winter although churches, school students and other actors of civil society offered rooms to the city!
Also on this account we will go on the streets on Saturday – with many people from this city, whether they were born here or not – for the rights of all people who are living here! For good housing! For freedom of movement, beyond borders! And for the right to stay! Yalla Yalla – join us on the 14th of November on the streets of Hamburg!