Die Stadt Hamburg hat sich im Dezember an der bundesweiten Sammelabschiebung nach Afghanistan beteiligt und 7 Menschen aus Hamburg in ein Land abgeschoben, in dem Krieg, Terror und Elend herrschen. Viele andere Bundesländer wie Brandenburg, Bremen, Berlin, Niedersachsen, Rheinland-Pfalz, Thüringen und Schleswig-Holstein haben sich der Anweisung der Bundesregierung widersetzt und sich nicht an den Abschiebungen beteiligt. Die Hansestadt Hamburg hätte dies auch tun können, doch der rot-grüne Senat setzt stattdessen um, was die Rechtspopulisten von AfD und Co. fordern: mehr Abschiebungen, um jeden Preis.
Laut Senat sind 479 Menschen in Hamburg akut von Abschiebungen nach Afghanistan bedroht, von denen über 100 noch minderjährig sind. Monatlich sollen sie in Nacht- und Nebelaktionen von der Polizei aus dem Bett gerissen und in Abschiebegefängnisse gesperrt werden, um dann mit Charterflügen nach Kabul abgeschoben zu werden, wo sie sich selbst überlassen werden. Afghanistan ist kein sicheres Land, die Sicherheitslage hat sich in den letzten Monaten sogar massiv verschlechtert. Laut der UN Mission in Afghanistan hat es 2016 mehr zivile Opfer gegeben als in allen Jahren seit Beginn der systematischen Zählungen im Jahr 2009. Davon weiß auch der Hamburger Senat, der durch sein populistisches Vorgehen mutwillig das Recht der Abgeschobenen auf ein menschenwürdiges Leben in Sicherheit verletzt.
Der rot-grüne Senat treibt die rassistische Abschiebepolitik aufs Äußerste und betreibt damit einen offenen Kuschelkurs mit rechtspopulistischen Kräften. Die Abschiebungen beruhen letzlich auf der Initiative des Senats und können von diesem auch ohne weiteres gestoppt werden. Was in anderen Bundesländern möglich ist, können wir auch hier erreichen. Auf der kommenden Sitzung des Hamburger Innenausschusses am 20. Januar wird über die Abschiebungen nach Afghanistan debattiert. Die Sitzungen des Innenausschusses sind öffentlich. Wir rufen Alle dazu auf, mit uns vor Ort dazu beizutragen, dass Abschiebungen aus Hamburg unmöglich werden. Wir fordern einen sofortigen Abschiebestopp nach Afghanistan!
Innenausschusssitzung u.a. zu Abschiebungen nach Afghanistan
Freitag 20.01. | 17 Uhr | Hamburger Rathaus (Raum 151)
Kundgebung vor dem Rathaus
Freitag 20.01. | 16 – 18 Uhr | Rathausmarkt
Facebook-Event:
https://www.facebook.com/events/1859113174369095/
Mehr Infos zum Besuch des Innenausschusses:
https://www.hamburgische-buergerschaft.de/besuch-im-rathaus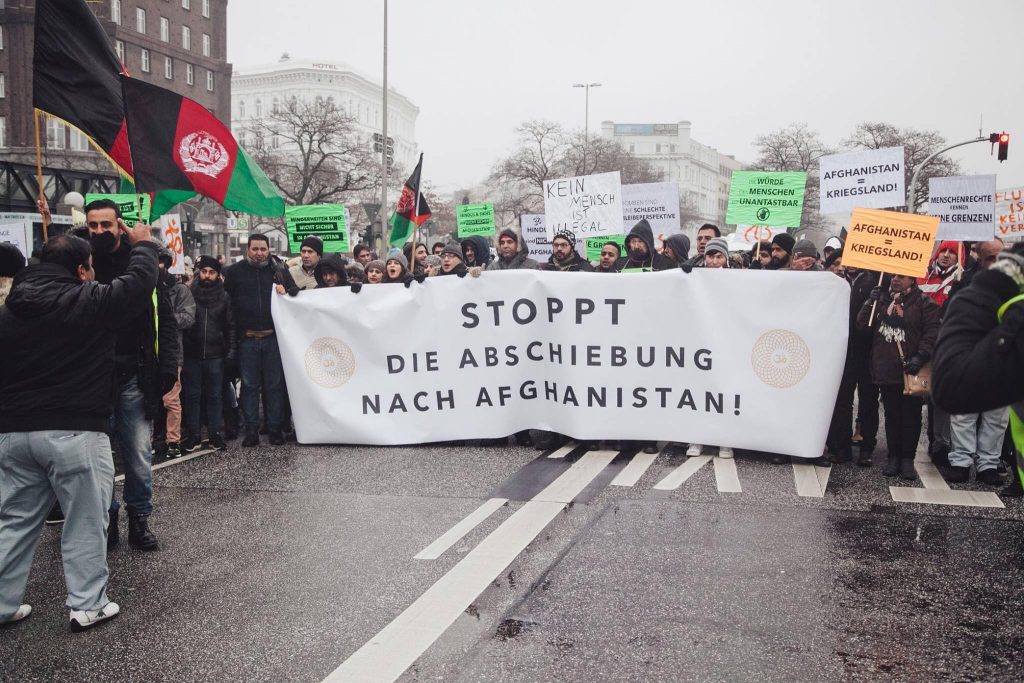 English version below
_____________________________________________________________________
Stop deportations! Monitoring of the Innenausschuss on 20.01.2017
Hamburg participated in the nationwide deportation to Afghanistan in December and deported 7 people from Hamburg into war, terror and misery. Other federal states like Brandenburg, Bremen, Niedersachsen, Rheinland-Pfalz, Thüringen and Schleswig-Holstein defied the order of the German government and did not participate in the deportations. The city of Hamburg could have also done this but instead the SPD/Green senate chose to realize the demands of right-wing populists like the AfD: more deportations, at any price.
According to the senate 479 people from Hamburg are threatened with deportations to Afghanistan – over 100 of them are still minors. The police is supposed to pick up people in dawn raids once a month, to imprison them in detention centers and then to deport them via charter flights to Kabul, where they are abandoned. Afghanistan is not safe, the security situation has deteriorated massively in the past months. According to the UN Mission in Afghanistan there were more civilian casualties in 2016 than in any other year since the start of the systematic counts in 2009. The senate of Hamburg knows this, it deliberately endangers the deportees rights to a dignified life with its actions.
The SPD/Green senate is pushing the racist deportation policy to the limits and is thereby openly buttering up right-wing populist forces. The deportations base on the initiative of the senate and can also be stopped by it. What is possible in other federal states, can also be achieved here in Hamburg. On the upcoming meeting of Hamburgs Committee for Interior on the 20th January the deportations to Afghanistan will be debated. The meeting is public. We call everyone to join us at the Rathaus so that we can contribute our share to making deportations from Hamburg impossible. We demand a immediate stop of the deportations to Afghanistan!
Meeting of Hamburgs Committee for Interior on deportations to Afghanistan
Friday 20.01. | 5 PM | Town Hall Hamburg (Room 151)
Manifestation in front of the Town Hall
Friday 20.01. | 4 – 6 PM | Rathausmarkt
There will also be a registered manifestation in front of the Town Hall during the meeting, more info soon!
More Information on the Rathaus:
https://www.hamburgische-buergerschaft.de/besuch-im-rathaus/
Facebook-Event:
https://www.facebook.com/events/1859113174369095/